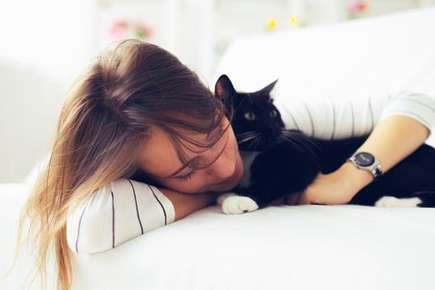 There are specific activities that can make a positive difference in your pet's health. The difference will be enhanced health and wellness when you integrate them into your current pet maintenance program. Feeding, grooming and vaccinations are probably your top-of-mind priorities. Sometimes you can miss little changes in health or care that can have a large impact.
Care delays can be a risk. Waiting and watching for your cat's symptoms to subside can cause undue distress. Keep a close eye on your furry friends to make sure their health conditions don't include panting, limping or lameness, refusal to take nourishment or water, loss of weight, sneezing, urination or defecation habits that aren't normal for your pet, grooming changes, and increased sleep needs. Diarrhea and vomiting are big deals and will result in dehydration that could be fatal without immediate attention.
Preventative care is critical to good health and wellness in family pets. Regular veterinarian visits provide opportunities for pets to receive complete visit care that rules out current disease or impending disaster. Always make sure your cat receives an annual visit. During these visits your vet will look at teeth, tongue and gums, check for parasites, provide guidance and information for exercise, proper feeding and review your pet's current daily habits. Your vet will also check skin, nails, eyes, ears and coat.
Exercise and other habits may have changed since the last visit. Your pet may need support with aging, pregnancy or pain management. Arthritis or decaying teeth may cause discomfort in your pet. Remember that cats have a survival instinct and camouflage their pain or discomfort better than other animals.
"Some older house cats are pretty inactive and sleep a lot, so owners often just don't notice problems," says Adrianne Brode, DVM, CCRP. Brode sees that dogs receive more health care than cats at Houston's Canine Health Institute.
Lack of permanent identification can put your cat at risk. Let's face it, who would think that your furry critter sleeping happily in the carpeted sunny spot will be a sudden escapee when the neighbor, niece or nephew comes to put out fresh food and water during your vacation.
The National Council on Pet Population Study and Policy advises that less than 2% of cats in animal shelters are returned home. Microchips, tattoos and tags can help identify pets that are accidentally let out or that may escape right before your very eyes. Cats have a higher chance of losing their collars than dogs typically do, and having your vet insert a microchip could be a good idea. Your cat won't feel any pain, the chip is the size of a small grain and the process is very quick. For maximum effectiveness, you must connect with the chip's vendor, provide your contact info and maintain an active registration for your pet. If lost, the chip can be recognized by a scanner at many animal shelters and veterinarian offices.
Uncontrolled parasites can bother your cat. Fleas are the most common and well known external parasite. Just one flea eaten by your cat can create internal tapeworms. They are common in cats, as are heartworms. Untreated heartworms can damage heart, lungs and circulatory vessels beyond repair. Other bothersome parasites may include ear mites, ticks, roundworms and hookworms, depending on the area in which you live. "Some intestinal parasites can be transmitted to people," says Marla J. McGeorge, DVM. Adults with compromised immune systems and children have increased risks.